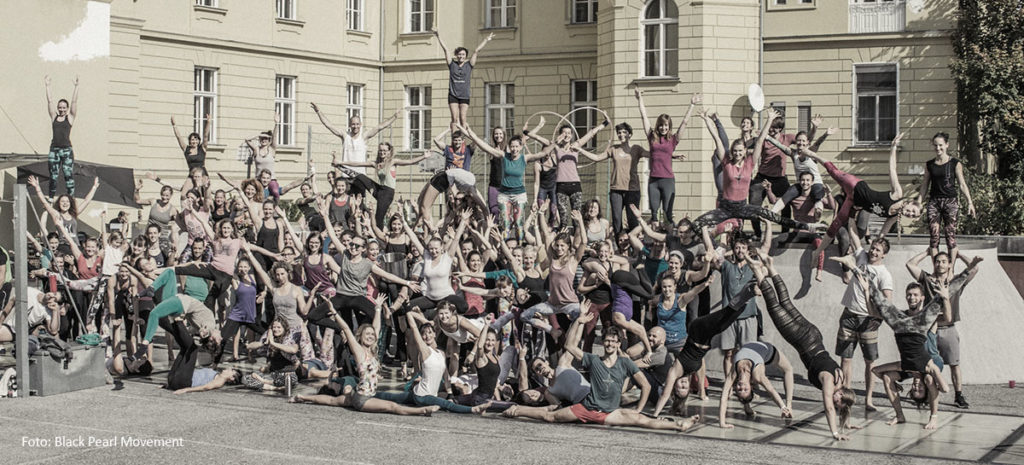 We will hold our yearly acro festival in the last week of Octobre. It's going to be bigger and longer than ever! Join us for a full week of Acro in Graz.
Place: BRG Kepler, Keplerstraße 1, 8010 Graz
Time: Pre-Festival-Intensive from 25th to 28th of Octobre 2021
Festival from 28th to 31st of October 2021
There will be 4 to 5 rounds of workshops every day, with about 3 acro, and one aerial workshop per round and plenty of space for free training, longes and enough puzzle mats, maybe an airtrack.
3 meals per day.
1 extra day as this year we already start on Thursday evening!
Unfortunately the sleeping situation is unclear. We are not sure, if we can offer you to camp in the class rooms as in previous years. So if you can, start thinking about friends you might have in Graz who could host you during the festival. If you are from Graz, please start thinking about offering a place to other participants from outside.
There will be an open stage and if the weather and an acro walk through the city if the weather allows it.
Prices
Early Bird (until 15th of September)
Festival: 135,-
Pre-Festival-Intensive: 139,-
Early Bird Single Workshop (only for Pre-Festival-Intensive): 33,-
Late Bird (after 15th of September)
Festival: 145,-
Pre-Festival-Intensive: 150,-
Late Bird Single Workshop (only for Pre-Festival Intensive): 39,-
The ticket price has gone up, since you get one day extra and about 50 percent more workshops than at the last festival. Also we might have to keep the number of participants lower this year and do the calculation accordingly. There is only one price for the whole festival. If you don't participate in the whole event, you still need to pay the same price.
The registration for the Single Workshops in the Pre-Intensive will open up as soon as we know the teachers and the topics.
Teaching
Every participant is welcome to offer a workshop, if you have the qualifications. Please use the teacher registration form to hand in your workshop. We will let you know as soon as we have a plan where your workshop fits in the festival. Teachers get 40,- per workshop and person.
Open Stage
If you would like to present an act on our open stage, please register here. Don't hesitate to contact us for further information.
The festival and pre-festival-intensive are both FULL
CoVid Situation
For your safety we will stick to CoVid regulations at the time of the festival. We will inform you before the festival. Please expect changes in the festival plan if we have to do them.
Refunds
Until the last day of September we can refund the whole ticket price if you decide to cancel your registration for any reason. After that date there will be NO REFUNDS. We might try to get a replacement for you from the waiting list, but no promises.
Data Protection Statement
We only collect and use personal data in this form only for organizing this festival and sending you necessary information. By filling in the form you give your consent to this – you can take it back at any point in the future and we will erase your data immediately. Insofar as we obtain the consent of the data subject for the processing of personal data, Art. 6 para. 1 lit. a of the EU General Data Protection Regulation (GDPR) shall serve as the legal basis for the processing of personal data. The personal data of the data subject will be deleted or blocked as soon as the purpose of storage ceases to apply. Furthermore, data may be stored if this has been provided for by the European or national legislator in EU regulations, laws or other provisions to which the data controller is subject. The data will also be blocked or deleted if a storage period prescribed by the aforementioned standards expires, unless there is a need for further storage of the data for the conclusion or fulfilment of a contract.